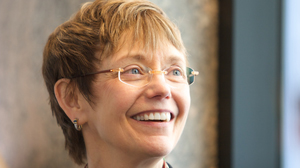 Presidents must be utopian realists. The act of education requires abundant hope for human growth and for a better world. But our visions must be grounded in a realism that allows us to convert challenges into opportunities by turning them inside out.
Technology, finances, changing demographics, and transformations in knowledge are among the pressing issues that I believe we will eventually translate into opportunities. But for now I worry about the public mistrust of education and the crushing of the social promise of education, a promise we have so long cherished and that has for so long served our country well.
The traditional social purpose of liberal education as the nurturer and protector of freedom to think critically and creatively and to cultivate democratic community is routinely ignored. As the nation becomes more diverse and more global, the need to highlight the link between the liberal arts and democracy—as well as the necessity of articulating the importance of the liberal arts for the twenty-first century for communities, careers, and personal satisfaction—is paramount.
I fear that the social purpose of education, the seedbed of freedom, has been replaced by the belief that education is a consumer good whose value is now often equated with cost. If we cannot debunk this shallow belief, we will weaken our communities, short-change our democracy, and gut our innovations in the arts, in the sciences, in politics, and in countless other fields.
Rebecca Chopp, President, Swarthmore College