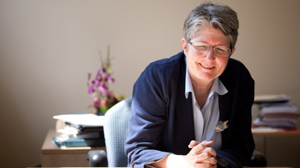 As I enter my second year as president of Shimer College, there are three themes that seem to me central as we think forward about liberal education. While phrased here in larger, more abstract ways, each is critical to our ongoing success in both the dailiness of the college and in our students' lives.
First and foremost, we must enable those who have not experienced liberal education to understand it, and have access to it. To accomplish this, we must ensure that the public discussion is not only focused on the immediate economic consequences of various forms of education (and training), but also on additional values that may be ends in themselves. Given that small residential liberal arts and sciences colleges are 3% of the educational market place, we must support one another in our successes.
Second, we must ensure that liberal education is understood as a "both/and" proposition — both STEM and the humanities, both theory and practice, both local responsibility and global responsibility, for example.
And, third, we must address the ways what we do—and what we value—have slipped from being understood as a public good (funded in much larger part by tax dollars whether we are in the public or private domain) to being understood as a private good only (and thus funded through individual debt accrual). While recent discussions at the federal level appear to return attention to education as a public good, many of us (I for example) would not have experienced the liberal education we received without very well-funded federal work study, and related programs.
Finally, thank you for this opportunity. This is a terrific idea and I hope that Lafayette and others will continue to find innovative and interesting ways to continue the work together.
Susan E. Henking, President, Shimer College