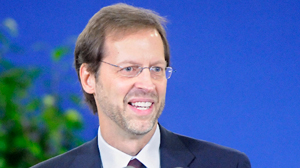 Foremost on my mind is the national imperative that American higher education draw from the full American mosaic in order to effectively prepare the leaders of tomorrow.
Make no mistake, liberal arts education is the single finest form of cultivating emerging human talent and character that this world has ever known. While all liberal arts colleges must contend with economic pressures and the need to demonstrate our value, we are fortunate that the quality of education we offer is exactly what future leaders need.
But, a growing body of national research shows that, each year, thousands of students of modest economic backgrounds who have outstanding grades and test scores fail to apply to the highly selective colleges and universities for which they are qualified.
To attract students who might otherwise "undermatch" their college options, liberal arts colleges must optimize partnerships with some of the nation's most successful schools, networks, and college access programs—a strategic priority that enhances our admissions profiles for today and tomorrow. We can and must find these students, attract them to our campuses, and develop the financial aid budgets that enable us to renew our historic contribution to America, providing ladders and opportunities for tomorrow's leaders.
If liberal arts colleges can identify, educate, and launch talent from all backgrounds, we will enhance our future and the world's.
Daniel Porterfield, President, Franklin & Marshall College