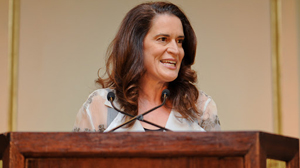 There's a great deal on my mind, and on our collective plate, as we consider the future of the liberal arts. As always, we have to continue to rally public support for the value and virtues of a liberal arts education—not a mindset that we have the luxury of taking for granted.
Coupled with that, we are all faced with increasing demands to measure things–like outcomes and products and values–that don't fit easily with our traditional modes of behavior.
And then there's the rapidly evolving world of online education, which simultaneously promises and threatens to change the very core of our being.
Meanwhile, and always, our central challenge is to continue to expand access to all qualified students, no matter their means. If we can come closer to achieving this, we can move forward with pride.
Debora Spar, President, Barnard College