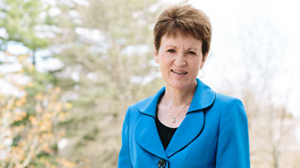 Two questions dominate my thinking in these days. First, how do we keep high-quality liberal arts education affordable and accessible to talented students in all sectors of our society? Second, how do we translate the long-term, qualitative, and societal value of a liberal arts education to a society that is currently and perhaps even understandably preoccupied with short-term, quantitative, and individualistic concerns? If we cannot resolve the second question, I suspect we will not be able to solve the first.
It is understandable in these challenging economic times for fear and short-term thinking to dominate our public discourse about higher education in general—and liberal arts education in particular. But higher education that merely passes the social test of relevance and utility has fallen short of its responsibility to the public good.
While we as liberal arts institutions could certainly do a better job in preparing graduates for their first job, we have specialized in preparing graduates for the long term—with the skills to think critically, to be life-long learners, and to adapt to the uncertainty and ambiguity that change brings. Liberal arts institutions, in contrast to institutions that specialize in job training, prepare graduates to cultivate curiosity for its own sake, to raise questions that no one else is yet asking, to see not only what is, but what might be. Liberal arts institutions have also been responsible for preparing the "loyal opposition" of our society, that sector of the society who (like the opposition party in the British House of Commons), is both highly invested in the system, but also has reasons for wanting to see that system changed to function at its best.
Liberal arts graduates are prepared with the critical thinking skills, the communication skills, the ethical framework, and usually the idealistic passion to help a society see itself and to call itself to account when it is failing to live up to its own ideals. If we fail in this moment to translate these longer-term values of a liberal education to a society that currently thinks of education primarily in terms of usefulness and relevance, we have abdicated the larger and longer-term responsibility to prepare the next generation to steward the values of integrity, creativity, freedom, and self-criticism that have facilitated both human progress and human flourishing through the ages.
Shirley Mullen, President, Houghton College