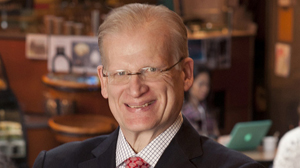 When I think about the prospects and perils of a liberal arts education in our country today, I think of Charles Dickens's famous opening to A Tale of Two Cities: "It was the best of times, it was the worst of times, it was the age of wisdom, it was the age of foolishness…we had everything before us, we had nothing before us, we were all going direct to Heaven, we were all going direct the other way."
It is difficult to read the headlines of any newspaper, the prognostications of any commentator, or the pronouncement of any politician and not draw the conclusion that higher education (and liberal arts education in particular) is bound for perdition—in a crisis of historic proportions, on the brink of economic collapse. And, yet, between the lines and in the lives of our graduates, another tale is told—impressive returns on investments in leadership, innovation and thoughtful engagement.
Dickens's novel was about many things, but it is finally a treatise on freedom—about its nobility and elusiveness, the responsibility it entails and the dangers it invites, the kinds of communities it engenders and the character of the people it produces. It is about, that is to say, the arts of liberty—the liberal arts—and the way they can, when embraced with integrity, bend the arc of history and turn the worst of times into far better times.
At a moment when so many proclaim the ascent of the virtual and the end of the brick-and-mortar campus, I am more convinced than ever that the best education for times like these takes place in real places among real people committed to a clear and common goal. Places where education is not regarded merely as the acquisition of knowledge or skill, but the development of an individual's full potential as an informed citizen and a fully-engaged member of society.
It is something that happens in places that offer a sequence of life-altering discoveries and encounters, of living and learning in the company of mentors and friends that changes you forever and equips you to embrace the unimaginable challenges the future holds.
That's the crucible of learning that our best liberal arts colleges become as they practice the arts of liberty. That's the kind of world in which we all want to live during the best or worst of times.
Ronald R. Thomas, President, University of Puget Sound