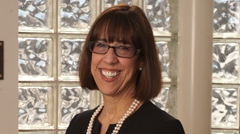 While many of the current critiques of higher education are thoughtful and credible, I am deeply troubled that public confidence in the value of a liberal arts education has eroded at a time when what is found at these special places is so desperately needed by the nation—and the planet.
I, like my fellow presidents, know that there is no education better suited for the 21st century than that found in residential liberal arts college communities: education that teaches individuals to think critically, chase big questions, settle conflicts with civility and reason. Only in this country can you find so many colleges like ours: small so that every student has individualized attention from dedicated faculty and staff; residential, so students build a shared community; and broad, offering a curriculum in which students explore an array of subjects while they develop mastery of one or more.
But most of all, the power of the American liberal arts education is that people so different from one another live together in a community formed, constituted, and held together solely by learning. As presidents, stewards of this ideal, we are all energized daily by the rich learning possible when we open our doors to the full mosaic of our society. While each of us works every day to promote our individual institutions, our collective challenge is how to articulate the value of a liberal arts education in a way that captures the public's attention.
Each of our colleges is an extraordinary place with exceptional educational programs, but we will need to summon our creative energies to build confidence in the value of a liberal arts degree and to address the challenges that lie ahead.
Teresa Amott, President, Knox College