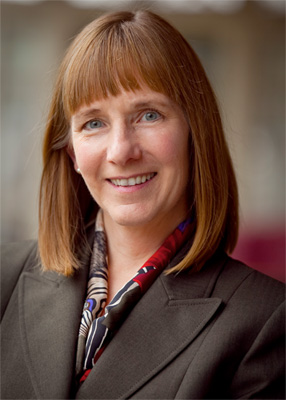 A nationally recognized scholar, Alison Byerly is one of the nation's most prominent thought leaders on the role of technology in higher education. She has a long and deep involvement in and commitment to an interdisciplinary and global approach to higher education.
Before becoming Lafayette's 17th president, Byerly served in leadership positions at Middlebury College for 13 years, most recently as provost and executive vice president. A member of the Middlebury faculty from 1989-2013, she held an interdisciplinary appointment as College Professor and served as a visiting scholar at MIT, Stanford, and Oxford.
Byerly served as Middlebury's provost and executive vice president from 2007-12, following appointments as vice president for academic affairs, dean of faculty, and associate dean. She was responsible for all undergraduate faculty and academic programs, research centers, arts facilities, admissions, environmental affairs, and international programs.
A leading voice nationally on emerging forms of digital scholarship, the changing role of the humanities in the digital age, the importance of curricular innovation, and MOOCs (massively open online courses), Byerly has lectured widely on these topics at the annual convention of the Modern Language Association (MLA), the biennial Media in Transition conference, the MIT Communications Forum, and other venues. Her essays have appeared in The Chronicle of Higher Education and Inside Higher Ed.
Learn more about Byerly's leadership in issues of technology and higher education.
While serving as a visiting scholar in literature at MIT, Byerly led an online seminar on evaluating digital scholarship hosted in October 2012 by the National Institute for Technology in Liberal Education. In January 2013 at MLA's annual convention in Boston, she led a workshop on the same topic and presented research on locative media and the environment. Later that month, she spoke on ways colleges and universities can respond to the opportunities and challenges presented by online education at the annual meeting of the American Association of Colleges and Universities in Atlanta.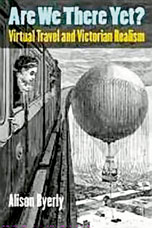 Byerly is the author of two books, Are We There Yet? Virtual Travel and Victorian Realism, published in 2012 by the University of Michigan Press, and Realism, Representation, and the Arts in Nineteenth-Century Literature, published by Cambridge University Press in 1997 and reissued in paperback in 2006. Are We There Yet? connects the Victorian fascination with "virtual travel" with the rise of realism in 19th century fiction and 21st century experiments in virtual reality. Byerly began research for the project as a visiting fellow at Harris Manchester College, Oxford, in 2002-03 and completed the manuscript while a visiting scholar at Stanford University in 2008-09. Byerly also is the author of many scholarly articles and book chapters, including "Technologies of Travel in the Victorian Novel" in The Oxford Handbook of the Victorian Novel.
Learn more about Byerly's scholarship.
Byerly continued to teach regularly while serving as provost at Middlebury. Her courses over her last several years included Time and Narrative, a team-taught International Studies seminar on Politics and the Novel, and a multimedia course on Fictional Worlds.
Among other leadership roles in national organizations, she served as a member of the Coordinating Committee of the Alliance to Advance Liberal Arts Colleges from 2010-12 and as a member of the New Faculty Fellows Selection Committee of the American Council of Learned Societies from 2009-11.
A native of Glenside, Pa., Byerly earned a bachelor of arts degree with honors in English at Wellesley College in 1983, a master of arts in English at University of Pennsylvania in 1984, and a doctorate in English at Penn in 1989. At Penn, she was the recipient of a University Fellowship, Dean's Fellowship, Dean's Award for Distinguished Teaching, and Mellon Dissertation Fellowship. As an undergraduate, she received Wellesley's Jacqueline Award in English Composition and Mary C. Lyons Prize in Writing.
Byerly is married to Stephen Jensen, a medical editor. They have a daughter, Laramie, a student at Carleton College, and a son, Ryan, in high school.