A new era of great promise began with the inauguration of Alison Byerly as Lafayette College's 17th president Oct. 4. "I am excited at the opportunity to lead an institution that I believe can make a significant mark in the changing higher ed landscape," she said in her inaugural address.
See inauguration articles, video, and photos.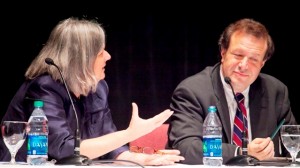 A roundtable discussion, "New Models for Higher Education," featured Elizabeth S. Boylan, director of STEM Education Programs, Alfred P. Sloan Foundation; Steven G. Poskanzer, president, Carleton College; and Jeffrey J. Selingo, editor at large, The Chronicle of Higher Education.
Read about and watch the roundtable discussion.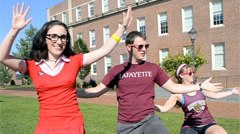 Students were invited to create short videos about what makes Lafayette special to them. President Alison Byerly announced the winner of the student video contest during the Inauguration and Marquis Founders Dinner. The winning entry, "Best School Ever" by the Music Appreciation Floor, was shown during the dinner. View the winning student video.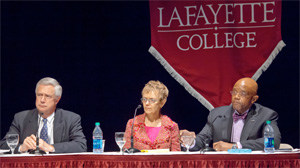 College presidents shared their thoughts on the challenges and opportunities facing liberal arts institutions. This continued the conversation that began at Lafayette in 2012 when it hosted The Future of the Liberal Arts College in America.
Read comments from more than 30 presidents.